Mnr:
41-50
Attempts To Cyclise KAB22-1 using AcCl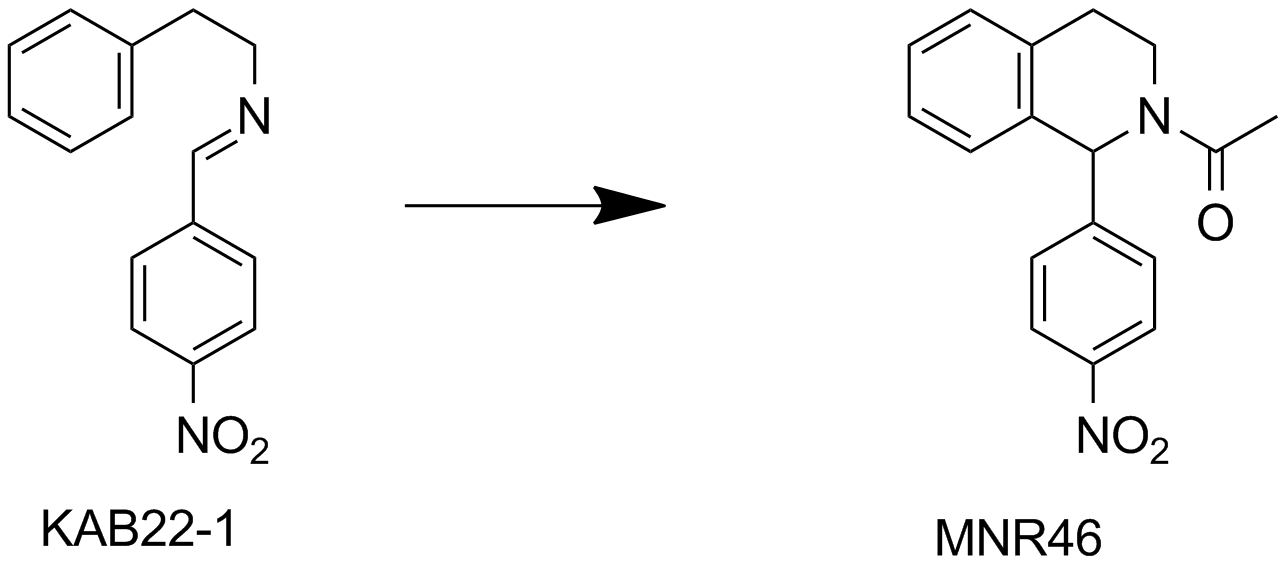 Hazard AssessmentProcedure
To a solution of KAB22-1 (1eq) in HPLC grade acetonitrile (0.03 M) under argon at ambient temperature, was added was added acetyl chloride (1.8 eqs), base (1.4 eqs) and catalyst (0.4 eqs). The reaction was then stirred at room temperature (19 °C) over the weekend.
Monday morning
46-2 was a clear yellow solution
46-3 was a cloudy yellow mixture
46-4 was a cloudy yellow mixture

Work Up
The mixture was washed saturated sodium bicarbonate solution (10 mL) and the aqueous layer was extracted with ethyl acetate (3 × 15 mL). The organic fractions were combined, dried over MgSO4, filtered and concentrated under reduced pressure to yield a yellow oil.
Post work up TLC showed faint new spot in both Yb reactions, 46-4 selected for column as the spot looked more intense. This spot did appear to be in all 3 reactions pre-work up.
MNR46-4
Column using 40% EtOAC/Hex. new spot collected in fractions 11-20. Lutidine spot ran lower and slightly co-spotted but this can be vac'd away.
NMR shows what looks like product as a mixture of rotamers. NMR also contains traces of EtOAc and an extra Ac peak.
Frac 11-20 0.040 g as a yellow oil.
mnr46-4_frac11-20_13C.pdf
Frac 1-9 - 0.020 g as a pale yellow solid (thought to be starting material, turned out to be a mixture of hydrolysis products, no starting material found)
Conclusion
This cyclisation appears to have worked and was not expected. Has increased catalyst loading aided the reaction or is it increased reaction time? Now need to go back and column the control and the other Yb reaction to test for more cyclisation product.
Crude NMRs of MNR46-2 and MNR46-3
Crude 1H NMR of MNR46-2 showed only hydrolysis products (Ac, mono or di-protected)
Crude 1H NMR of MNR46-3 was messy but looked like like mainly hydrolysis products (Ac, mono or di-protected) with the possibility of traces of product but it was decided not to waste time running it through a column,
OverlayLCMS
Expected products
Hydrolysis products are too small to be detected by LCMS as the cut off is 250.
LCMS - Starting Material
Peak with RT of 15 mins with very little m/s activity but SM+H (=255) detected.

LCMS - MNR46-4 frac 11-20
Peak with a RT of 22 minsshows m/s peak of Prod+H (=297)
Overall Conclusions
The cyclisation looks to have worked using Yb(OTf)3. Is it catalytic? Based on scale it's hard to tell therefore this needs repeated. Reaction also needs repeated at lower Yb(OTf)3 loadings to understand the reaction more also following the reaction over time will be useful.
SciFinder searching -
Ph ring open - 1466 Reactions
With only a Ph ring - 89 Reactions
With H's on the Et chain - 21 reactions from 6 refs
With Ac group - 6 reactions from 2 refs (only one looks useful - A new method for synthesizing 2-acyl-1-aryl-1,2,3,4-tetrahydroisoquinolines, Mollov, N. and Venkov, A. Synthesis, 62-3; 1978
Attached Files
mnr46-2 table.PNG
46 Monday
46 Monday
46 2 hours
mnr46-4_frac11-20_1H.pdf
mnr46-4_frac11-20_13C.pdf
46-4_column
mnr46-4_frac1-9_1H.pdf
mnr46-4_frac1-9_13C.pdf
mnr46-2to4_overlay.pdf
mnr46-2_1H_crude.pdf
mnr46-3_1H_crude.pdf
kab22-1.pdf
mnr46-4_frac11-20.pdf
mnr46_LCMS.png
mnr46_lit.PNG